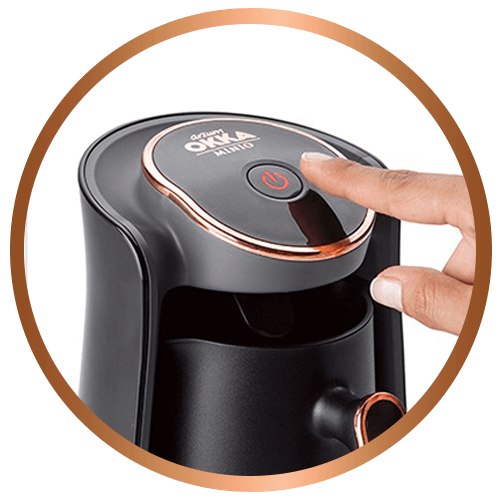 The Ability to Cook Coffee with the Flavor of Embers
There is a heavy-duty cooking feature to get all the flavor of coffee. The slow cooking technology that creates the coffee flavor in the embers will ensure that the coffee is abundantly sparkling. It provides a soft coffee drinking experience while ensuring that foam is evenly applied to each cup.
The Use of a Double-Sided Coffee Pot and the Large Volume of the Chamber
A double-sided coffee pot creates a comfortable grip for right- and left-handed people. it has an internal volume of 300 cc, large enough to cook 4 cups of Turkish coffee at the same time. This coffee maker, stainless steel inner pot, and lengthens the service life of the coffee enhances the flavor of.
Automatic Cooking System
The one-button cooking system operates completely automatically. After clicking the start key, the cooking time is determined according to the amount of coffee in the container, and the coffees are cooked automatically. With the help of light and audible warning systems, coffee can be transferred to cups without cooling down after cooking.
auto-off safety safe handling
, with the feature of automatic cooking, cooking time, not dollars full automatic shutdown system is activated, and safe operation is ensured.
Waterless Cooking Safety
When the water in the inner chamber runs out, the waterless cooking safety is activated, allowing the system to stop on its own. Possible fires or malfunctions are prevented thanks to the safety of cooking without water.
Anti-Overflow Sensors
When there are 4 cups of coffee in the hopper, the overflow safety is activated and the system stops itself before the coffee swells.
Weight 1400 G
the warning light
beep
power (Watts) 480
Material Plastic
safety system
size G16 A16 x x D22 CM
Brand Arzum
cup capacity 4